View Resource
Joe's Story As Told by His Parents to START-UP/USA
Available formats: Word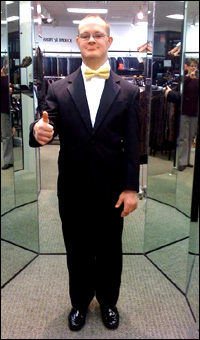 Background Information
Joe was in school when his parents, Ray and Janet, first began to imagine a different future for him than what is traditionally offered to students with significant disabilities. They attended a transition meeting and asked if the school could assist them in designing a plan for Joe that focused on self-employment. The response that they received was not a positive one!
Unfortunately, the school system was focusing on Joe's multiple developmental disabilities to include Down's syndrome. The team indicated that the only opportunities that they had to offer Joe were community experiences that included folding pizza boxes, restocking and bagging at grocery stores, and other similar training experiences. His team had very low expectations for him and believed that Joe probably would never work or at best be employed in a minimum wage job. Ray and Janet had a very different view of their son's abilities.
"Basically, at Joe's birth, we made a promise to him that we would do all that we could to give him every opportunity to be what he could be. We wanted to give him a quality of life that was equal to that of his brothers and sisters. By the time he became a young adult, he would be part of the community around him and do and have friends like everybody else."
During an interview with START-UP/USA, Janet went on to explain that she wanted her son to have choices and opportunities rather than being "fit" into a system of existing services.
Ray so believed in his son's abilities that he personally assisted Joe in two different community-based work experiences during high school. One was at a stable where Joe fed and watered the horses and the other was at the local pool. The school did not provide a job coach for these experiences, because the time schedule did not fall into the normal school hours. However, Joe's parents feel that these experiences were helpful in determining Joe's support needs for employment post school.
Joe's parents also wanted to provide other opportunities for him to work in some kind of small business venture. Ray learned of an individual who was selling Kettle Korn equipment. The equipment was purchased in 2000, and Ray and Joe began popping corn at Wal-Mart and at grocery stores in the greater Kansas City area. This experience proved that Joe could work. Basically within a year's period of time, Joe had mastered all of the different parts of the process of making Kettle Korn.
Joe's parents learned about self-employment for individuals with disabilities when each attended training sponsored by Partners in Policymaking in 2001 and 2002. Ray attended first and met Dave Hammis of Griffin Hammis and Associates. He was intrigued by Dave's case studies of individuals with disabilities who owned their own businesses. Ray told these stories to Janet who then attended a Partners training the following year. This experience "cemented" in their minds what they wanted to help Joe accomplish. They became the champions who made self-employment a reality for their son.
Poppin Joe's Kettle Korn Business
Joe has limited speech, but his mother reports that while he was popping corn at a festival, she heard Joe call himself "Poppin Joe." The name of the business was created and has been "Poppin Joe's Kettle Korn" ever since! Joe's business officially became a sole proprietorship in April of 2005. While Joe's parents are instrumental in supporting him in owning Poppin Joe's Kettle Korn, his parents are adamant that the business belongs to Joe and not to them.
A visit to the business verified that Joe is 100% involved in producing his product as well as selling the Kettle Korn at local events and at various business locations. Much like any business owner, Joe receives supports in completing various tasks that he cannot complete himself. This includes such things as being driven into town so that he independently can go into the bank to deposit the proceeds from his sales as well as restocking his products at local stores.
Janet provided support by attending training through the FastTrac program and wrote Joe's business plan. FastTrac is a practical, hands-on business development program designed to help entrepreneurs develop the skills that they need to create, manage and grow a successful business.
Dave Hammis of Griffin-Hammis Associates assisted in writing a Plan for Achieving Self Support (PASS) that was then submitted to the Social Security Administration. Christine Skayhand from Vocational Rehabilitation (VR) also supported Joe's business. She first met Joe when his parents took him to VR at 16 years of age. When Joe graduated at 18, his parents took him back to see Christine. Janet recalls:
"When we got there she says, 'I have never done this before. I'm willing to learn. Whatever we need to do we can work together to make this happen.' Actually, I think the supports from Social Security, from Dave Hammis, and from Christine Skayhand could not have been improved."
Clearly, the funding for Joe's business is an excellent example of braiding resources from multiple sources in order to make the business a reality. Funding from VR paid for a computer and laser printer as well as other start-up items needed for the business. The Development Disabilities (DD) Council in Kansas provided a grant that funded $9,000 towards Joe's equipment. Joe's PASS plan supported the purchase of business supplies to get his business up and running. Ray stated in a webcast produced by START-UP/USA:
"The thing that really made this successful was, in our situation, the three entities came together. Voc Rehab, they were in contact with Social Security. The people at Social Security were in contact with the people with the DD Council. All of them talked between themselves, and said what they thought looked good about our plan, what didn't look good about our plan, that kind of thing. Then we did make some adjustments to the plan. Basically, they all gave approval that they would support us in this effort.

So those three entities were the main source of us being successful with our business—all of them granting us the monies Joe needed and coming together, that we got our new equipment. We got a new computer with a laser printer that could do our labels, and then the PASS plan which put money in Joe's account for an 18-month period of time to support purchasing of raw materials, the corn, the oil, and the sugar that we needed to make Joe's business go forward."
As Joe's business expands and develops, his parents are working to involve other supports in the business operation other than them. For instance, money from the Medicaid Waiver program pays for a support staff person to assist Joe during the day in popping corn and bagging his product for sale. This support will be important for long term sustainability when his parents are no longer able to be as involved in the business operations.
Lessons Learned
Having "champions" to support an individual with a significant disability is critical for business development and operations. Joe's success was possible because his parents believed that Joe could have a different life than is traditionally offered to individuals with significant disabilities. However, the business must belong to the person and supports must be identified based on the individual's strengths and needs.
In addition, having the funding agencies believe that an individual with a significant disability can own and operate a business was critical. In this example, Social Security, VR, and the DD Council supported this non-traditional employment outcome, which made Joe's business a reality. Unfortunately, the school system did not support Joe's dream for work. But, it is hoped that by providing this case study, teachers and other school personnel can learn from this experience and will support self-employment as a goal for students with significant disabilities.
Summary
Life clearly has changed, since Joe was a child. When he was in preschool, Joe could swim for free from 12:00 to 1:00 at the neighborhood pool. He could not pay to swim in the afternoon at the pool. He was not allowed. Later when he was in elementary school, he and his classmates were not allowed to go out at recess when the other kids were there. They weren't allowed to go to the cafeteria for lunch.
Now, the community looks at Joe differently. He is a business owner who sells at local stores, fairs, and events. He's done fundraisers for 4-H, for church camp, for schools and other organizations, donating 50% of his proceeds to the fundraiser. Joe moved in his own place October 2008. He takes great pride in keeping every thing in order. When he has down time and is not working, Joe can be found relaxing at home.
Joe tells his story using his Dynamyte, an augmentative communication device, coupled with a power point presentation. He has served as a role model for other entrepreneurs with disabilities, serving as a mentor for START-UP/USA, since it was funded by the Office of Disability Employment Policy in 2006. Joe also has been a keynote speaker at a National Conference! Confidence, growth, unlimited possibilities, belonging, contributing, being valued, participating, freedom, taking risks, sharing, happiness, success, and security are all words that describe Joe's growth and development because of meaningful work opportunities.
When asked what advice the Steffy's would give to other parents, Janet stated,
"I think people need to know that anybody who starts a business is going to put in a lot more time than you ever dreamed, as does every new business. I would say that there is probably nothing more rewarding than what has come from Joe's business and the investment that we put in. Life is good for Joe. It's fun to see him this independent. It is fun to see him with people and talking and the fact that he has a life."
Ray added,
"You know in the beginning it is not easy. You have to do a lot of hard work. From what we have seen, Joe holds his head higher; he's a contributor; he feels good about himself. How can you put a price tag on that? You can't. It's priceless."
Additional Information and Resources
Developing a Business Plan for Self-Employment - Webcast Presentation by Joe and Ray Steffy
http://www.start-up-usa.biz/training/viewWebcast.cfm/94
Ray and Joe share how the family researched the business and developed a business plan. Ray talks about how they explored the idea of giving Joe the opportunity to own his own business while he learned to develop a good work ethic, despite "professionals" telling them that Joe could not work.
Discovering My Abilities - Slide Show Presentation by Joe Steffy
http://www.worksupport.com/documents/joe_slideshow.pps
FastTrac - http://www.fasttrac.org/
FastTrac is a practical, hands-on business development program designed to help entrepreneurs hone the skills needed to create, manage and grow a successful business. FastTrac participants don't just learn about business, they live it. They work on their own business ideas or ventures throughout the course moving their ventures to reality or new levels of growth.
Partners in Policymaking
Twenty years ago, the Minnesota Governor's Council on Developmental Disabilities created a ground-breaking, innovative training program called Partners in Policymaking® to teach parents and self-advocates the power of advocacy to change the way people with disabilities are supported, viewed, taught, live and work. Partners programs have been implemented nationally and internationally. The goal of Partners in Policymaking is to educate participants to be active partners with those who make policy. They will become partners in policymaking. The idea is to develop partnerships that are based on positive relationships.
Partners in Policymaking Homepage
http://www.partnersinpolicymaking.com/index.html
Partners in Policy Making Online Courses
http://www.partnersinpolicymaking.com/online.html