Upcoming Webcast

A Measure for Studying Successfully Employed People Who use Wheelchairs

Presenter: David Gray, PhD
Date & Time: May 8 | 2:00 pm ET
Research on effective interventions for return to work or acquisition of employment post-SCI is virtually non-existent. We conducted a three phased study of workers who use mobility devices to discover what they do at work (interviews, photos and video); to create and test a survey of workers who use mobility devices (construction of the measures and psychometrics); and analyze a sample of 132 workers for work concerns, satisfaction, AT and PA use, and a variety of other worker characteristics. The webcast will cover the basic attributes of the Mobility Worker Survey (MWS) and provide some preliminary results.
You may register for a single webcasts or the series. Individuals with disabilities receive access to all of our webcasts at no charge.
Factsheet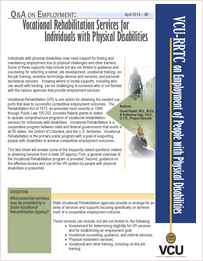 Q & A on Employment: Vocational Rehabilitation Services for Individuals with Physical Disabilities
Individuals with physical disabilities may need support for finding and maintaining employment due to physical challenges and other barriers. Some of these supports may include but are not limited to guidance and counseling for selecting a career, job development, vocational training, on-the-job training, assistive technology devices and services, and personal assistance services. Knowing where to locate supports, including who can assist with funding, can be challenging to someone who is not familiar with the various agencies that provide employment services.
Research Brief
Successful Employment and Quality Work Life after Severe Disability: Comparison of Predictive Models with Multiple Sclerosis and Spinal Cord Injury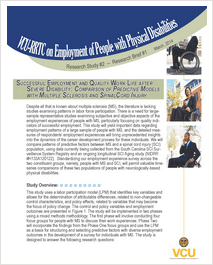 Despite all that is known about multiple sclerosis (MS), the literature is lacking studies examining patterns in labor force participation. There is a need for large-sample representative studies examining subjective and objective aspects of the employment experiences of people with MS, particularly focusing on quality indicators of successful employment. This study will yield important data regarding employment patterns of a large sample of people with MS, and the detailed measures of respondents' employment experiences will bring unprecedented insights into the dynamics of the career development process for these individuals.
Pinterest Board
Be sure to follow us on Pinterest Board. Our board is about technology that can facilitate employment for people with physical disabilities.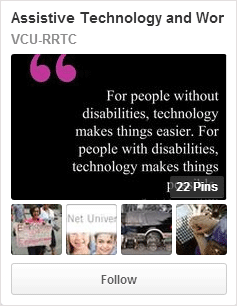 Webcast Schedule
May 8 - A Measure for Studying Successfully Employed People Who use Wheelchairs - David Gray, PhD
Jun 26 - Self Determination: Past, Present, Future - Michael Wehmeyer, PhD, Michael Ward, PhD
Jul 10 - Employment Concerns & VR Considerations for People with MS - Phillip Rumrill, PhD
Aug 14 - An Unconfined Life: And the Role of Employment - Nancy Brooks-Lane, Chris Coleman
Sep 11 - Assistive Technology Applications in the Workplace - Tony Gentry