View Resource
HVRP Factsheet #8: Informational Interviews
by Cary Griffin
Available formats: PDF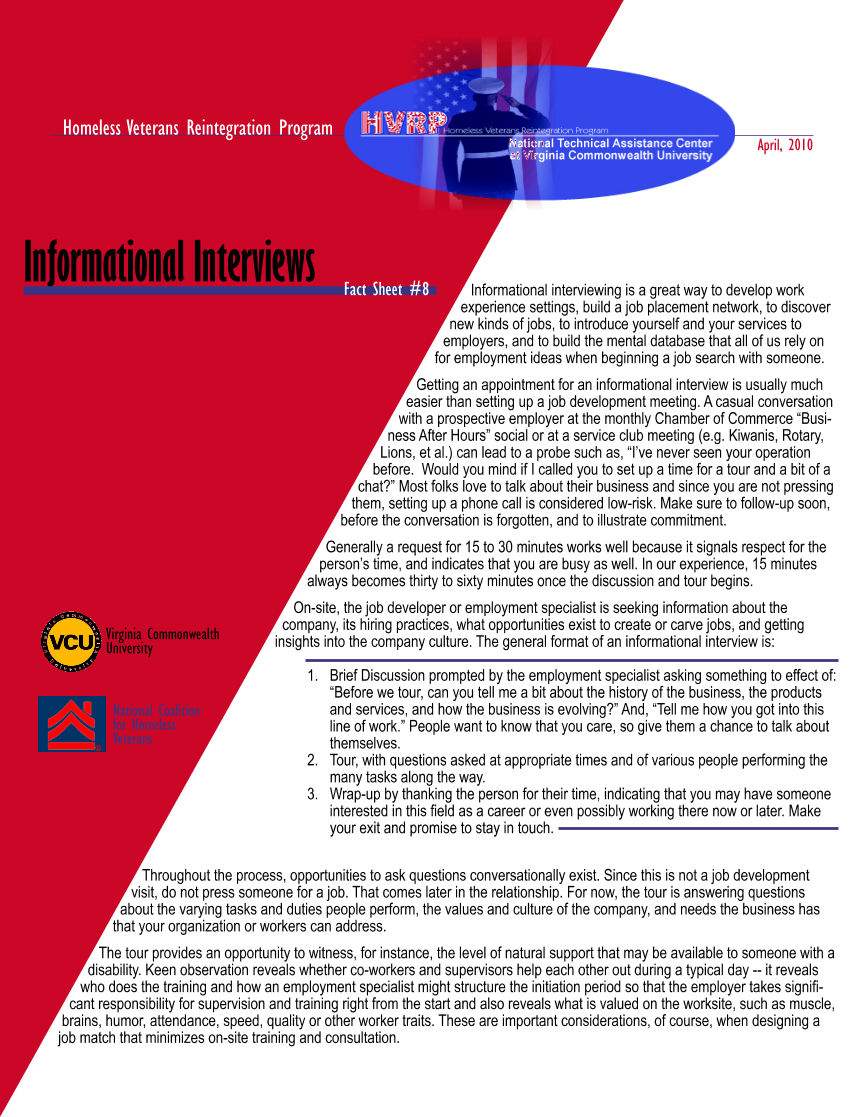 View PDF
Introduction
Informational interviewing is a great way to develop work experience settings, build a job placement network, to discover new kinds of jobs, to introduce yourself and your services to employers, and to build the mental database that all of us rely on for employment ideas when beginning a job search with someone. Getting an appointment for an informational interview is usually much easier than setting up a job development meeting.
A casual conversationwith a prospective employer at the monthly Chamber of Commerce "Business After Hours" social or at a service club meeting (e.g. Kiwanis, Rotary, Lions, et al.) can lead to a probe such as, "I've never seen your operation before. Would you mind if I called you to set up a time for a tour and a bit of a chat?" Most folks love to talk about their business and since you are not pressing them, setting up a phone call is considered low-risk. Make sure to follow-up soon,before the conversation is forgotten, and to illustrate commitment.
Generally a request for 15 to 30 minutes works well because it signals respect for the person's time, and indicates that you are busy as well. In our experience, 15 minutes
always becomes thirty to sixty minutes once the discussion and tour begins. On-site, the job developer or employment specialist is seeking information about the company, its hiring practices, what opportunities exist to create or carve jobs, and getting insights into the company culture.
The general format of an informational interview is:
1. Brief Discussion prompted by the employment specialist asking something to effect of: "Before we tour, can you tell me a bit about the history of the business, the products and services, and how the business is evolving?" And, "Tell me how you got into this line of work." People want to know that you care, so give them a chance to talk about themselves.
2. Tour, with questions asked at appropriate times and of various people performing the many tasks along the way.
3. Wrap-up by thanking the person for their time, indicating that you may have someone interested in this field as a career or even possibly working there now or later. Make your exit and promise to stay in touch.

Throughout the process, opportunities to ask questions conversationally exist. Since this is not a job development visit, do not press someone for a job. That comes later in the relationship. For now, the tour is answering questions about the varying tasks and duties people perform, the values and culture of the company, and needs the business has
that your organization or workers can address.
The tour provides an opportunity to witness, for instance, the level of natural support that may be available to someone with a disability. Keen observation reveals whether co-workers and supervisors help each other out during a typical day -- it reveals who does the training and how an employment specialist might structure the initiation period so that the employer takes significant responsibility for supervision and training right from the start and also reveals what is valued on the worksite, such as muscle,
brains, humor, attendance, speed, quality or other worker traits. These are important considerations, of course, when designing a job match that minimizes on-site training and consultation.
To read the entire fact sheet click here.