View Resource
START-UP/Florida Case Study: Monllor Rods, LLC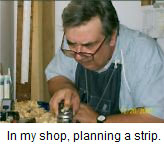 Ren Monllor connected with START-UP/Florida when the Small Business Development Center suggested that he attend a training session on self-employment for individuals with disabilities. The training was sponsored by START-UP/Florida and START-UP/USA and was offered at the One-Stop Career Center in Lakeland, Florida. Mr. Monllor wanted to start his own small business, but he didn't know if it was possible. After listening to Cary Griffin and talking with him about his passions and talents, Mr. Monllor realized that he could pursue selling handmade bamboo fly rods.
The first step was to conduct a feasibility study, which was guided by project staff, Beth Keeton. Mr. Monllor drafted a business plan with START-UP/Florida and START-UP/USA input. He needed the most assistance with financial planning. Once the business plan was completed, it was submitted to FL Vocational Rehabilitation (VR). In fact, the FL VR office was very open and willing to assist Mr. Monllor with his business and funded start-up costs of $18,000.
As a result, Monllor Rods, LLC opened for business on November 2, 2007 specializing in the production and sales of hand-crafted, split-cane bamboo fly rods and hand made fly reels. Mr. Monllor will sell his unique, hand-crafted products to fly-fishers throughout Florida, the United States and eventually the international market. On January 11, 2008, Mr. Monllor spoke to an audience of 100 participants at the Agency for Persons with Disabilities Employment Symposium in Lakeland, Florida. His presentation was not only inspiring but also thought provoking as he challenged the audience to listen to an individual's dreams and aspiration when self-employment is the desired outcome.
Most recently, START-UP/Florida worked with Mr. Monllor to write a Plan for Achieving Self-Support (PASS). The PASS was approved for an 18-month period with over $19,500 set aside into an account using his SSDI income and projected countable earnings from his business profits. The money will be used to cover operating expenses for the first 18 months of his business.
Find out more about START-UP/Florida