View Resource
Spokane Home Builders Association Case Study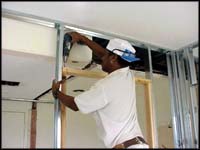 Careers through Apprenticeship
The Spokane Home Builders Association is an association comprised of 900 dues paying area builders and associate members involved in a collaborative effort to enhance the climate for housing and the building industry in the Spokane and surrounding areas. Membership is also drawn from three smaller chapters (Tri County, Whitman County, and Grant Country).
In addition to the association's focus on marketing, improving the area housing finance system, assessing economic and consumer trends, providing educational information to its members, etc.; a major emphasis has been placed on it's Residential Carpentry apprenticeship Program. This is the only residential carpentry training program in the Northwest.
Personnel Interviewed
Kim Waseca, Apprenticeship Director
Ms. Waseca indicated that outreach to the community of those with disabilities simply has become part of the culture of the Spokane Home Builders Association. She knows that two of her predecessors were also involved in active community outreach since the early 1980s and has not have accurate knowledge of "how this tradition evolved". She noted that "it has become an inherited function, an integral part of the job". In her position, she also transitioned into a seat on the area's Project With Industry's Business Advisory Council and thus began her effort to open up the residential carpentry apprenticeship program by awarding 20-25 apprenticeships per year to qualified individuals with disabilities.
The association recruits up to 20 new apprenticeship students annually. This number can fluctuate depending on the needs of the industry. The commitment made to become part of this apprenticeship program involves four years of on the job training (approximating 8,000 hours) and 144 hours per year of related supplemental education at Spokane Community College's Apprenticeship and Journeyman Training Center. She has recruited apprenticeship students with such disabilities as low vision, vision loss, neurological conditions, learning disabilities, neuropsychological disabilities, and most recently a deaf student.

It should be noted that the association supports the Business Leadership Network (BLN) which Ms. Waseca is a member. The association offers meeting space for the area's Project With Industry Business Advisory Council and the BLN, and makes other time commitments on the part of Ms. Waseca and membership for activities supporting the workforce absorption of qualified individuals with disabilities. Ms. Waseca also recently received a "Training Integration Excellence Award" and "Certificate of Appreciation" for her outstanding support and dedication serving the community, and for her many contributions to the Projects With Industry Program.
"Outreach to the community of those with disabilities simply has become part of the culture of the Spokane Home Builders Association, it has become an inherited function, an integral part of the job" -- Kim Waseca
Unique Practices of this Outreach Effort
It is truly unusual for an association involving the construction trades to make this type of an outreach effort on behalf of individuals with disabilities to include accommodation and hiring considerations. Under the apprenticeship program mechanism, Ms. Waseca not only offers training to individuals with disabilities, but also assists in securing jobs with one of the home builders within the association. This is actually an association of small businesses (i.e., contractors with two to five employees devoted to the building trade). Given the time demands on those involved in small businesses, this careers through apprenticeship program is exemplary


Above the apprenticeship effort, Ms. Waseca and the association offer both personnel and logistical support to other organizations (e.g., area Project With Industry, Business Leadership Network) concerned with employment and career advancement of people with disabilities.

For information regarding this Case Study contact:
Kim Waseca, Director
Apprenticeship and Training
509-532-4990
McMahon, B., Wehman, P., Brooke, V., Habeck, R., Green, H., and Fraser, R. (2004). Business, Disability and Employment: Corporate Models of Success. A Collection of Successful Approaches Reported from 20 Employers. Richmond: Virginia Commonwealth University, Rehabilitation Research and Training Center on Workplace Supports and Job Retention.