View Resource
High-Tech Tools Lower Barriers for Disabled
by Sacha Cohen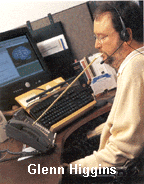 High-Tech Tools Lower Barriers for Disabled
The lastest generation of assistive technology is helping ever more people with disabilities perform valuable work
By Sacha Cohen
Glenn Higgins, an insurance company vice president and medical director in Portland, Maine, is benefiting from recent advances in technology and his employer's move to a paperless office.
UnumProvident Corp.'s transition to an electronic document system was designed to increase efficiency and improve workflow across the company. But it has proved especially helpful to Higgins, a quadriplegic who required an assistant to help him sort reams of paper and scan pertinent pages for his use.
"The more other companies move toward [the paperless office], the more it opens the workplace up to people with mobility impairments," says Higgins, who cannot manually operate a keyboard or a mouse. He uses a speech recognition system on his office PC as well as a breath-activated device to control his electric wheelchair.
"There are many wonderful assistive-technology gizmos now available that ease access and increase productivity," Higgins adds, "but the first step is to be flexible and open enough to consider using these tools to expose the workplace to talent that has heretofore been untapped."
There are 54 million Americans with disabilities, yet, according to the latest Census Bureau data, two out of three disabled people who are capable of working are unemployed, making this the demographic group with the highest unemployment rate. Census figures also show that 77 percent of people with a non-severe disability had a job or owned a business, while only 26 percent of people with a severe disability worked.
One company that seems to understand the benefits of tapping into this pool of workers is Sears Roebuck and Co. Keeping up with staffing demands is no easy task for the large Chicago-based retailer. Recruitment Director Bill Donahue says Sears' No. 1 issue is finding great talent, disabled or not, but the company does sometimes target this segment of the population.
"The disabled workforce represents the greatest opportunity for employers," Donahue says. "A large percentage of people with disabilities are unemployed, but no one will give them a chance." That's a mistake, because disabled workers are "loyal and committed to being there every day," he says.
That's important to Sears. "Retail is a high-turnover business. It is definitely in our company's interest to explore nontraditional recruiting avenues, such as the disabled community," says Peggy Palter, a Sears spokesperson. "That said, we have found the disabled community is a very good source of high-quality, committed employees."
IBM officials agree. In 1990, the company started Project Able to focus on hiring and retaining workers with disabilities. Since 1999, the company has hired more than 200 people with disabilities, says Jim Sinocchi, a spokesperson who is a quadriplegic and co-chair of IBM's People with Disabilities Executive Taskforce.
Like Sears and IBM, employers can more easily tap talented workers with disabilities by using a variety of plentiful and affordable assistive technology products. These tools, which are designed to enable disabled employees to overcome barriers in the workplace, can help those with hearing, speech, vision and mobility impairments. And mainstream technology, such as word processing software and operating systems, also have features that can benefit the disabled.
Mobility Impairments
Improvements in voice recognition software, wireless technology and other mainstream technology developments have had a tremendous impact on Higgins' productivity and ability to do his job, he says.
"The keys here are faster chip speeds, greater mass storage capacity, expanded bandwidth and the accompanying telecommunications enhancements," Higgins says. "The more information that can arrive quickly and be managed effectively from a computer screen, telephone link or TV monitor, and the more input and output options available, the less mobility limitations interfere with productivity and workflow."
Employees with certain mobility impairments, such as quadriplegia, and dexterity limitations, such as those caused by cerebral palsy, also may benefit from these assistive technology products:
Keyboard filters, which include typing aids such as word prediction utilities and add-on spelling checkers. These products, which suggest words based on the first one or two letters typed, reduce the required keystrokes.
Alternative input devices, which enable individuals to operate computers without using a standard keyboard or pointing device. For example, employees can strike keys with sticks worn on the head, held in the mouth or strapped to the chin.
Also, on-screen keyboard programs, which place an image of a standard or modified keyboard on the monitor, enable the user to select the keys with a mouse, touch screen, trackball, joystick, switch or electronic pointing device.
Hearing and Speech Impairments

Steven Bock, a deaf software engineer who has been with IBM for 20 years, has seen dramatic improvements in assistive technology. He uses a variety of products to eliminate communication barriers.
For example, the teletypewriter (TTY), one of the oldest and most common assistive products, provides telephone access to people with hearing or speech impairments by letting them type and read messages on a typewriter-like device connected to a telephone line. While TTY has been available for some time, it has benefited from recent mainstream telecommunications enhancements.
"Like the telephone, recent improvements include answering machine capacity, caller [identification], directory listing, auto dial and a host of other features," Bock says. "TTYs are very much in use between deaf employees, as well as between deaf and hearing employees who both have access to TTYs."
The next generation is video relay service (VRS), whose development was propelled by advances in bandwidth and telecommunications. VRS employs a remotely located sign language interpreter who can be accessed through a regular telephone line connected to video equipment.
"Because of the natural flow with the video relay service, more telephone conversations are conducted by VRS for those who have access to a computer with videoconferencing and [who are] connected to the Internet as opposed to the traditional relay service, which uses only the TTY or voicing on the phone and reading the screen for the text," Bock says. "The traditional TTY relay service does not allow for interruptions that naturally occur in phone conversations between hearing persons."
The VRS videoconferencing setup is similar to the traditional videoconferencing system and uses the same underlying technology. A sign language interpreter is hired to translate for the deaf employee and speak for the hearing employee, which creates communications that are closer to the natural flow of conversation.
"I use this communication technology at IBM extensively," Bock says.
Another tool that can assist hearing-impaired employees is CART (communication access real-time translations), or captioning, at lectures, during webcasts and on TV. Captioning can be provided locally or remotely over the Internet by a skilled caption writer or stenographer who attends a meeting or training session and types what is being said. The words are projected on a screen, allowing the hearing-impaired employee to follow the presentation. Many captioning services also offer remote CART and Internet captioning: The stenographer is not physically present, but can listen in through a telephone line.
A vibrating text pager is another important tool for hearing-impaired employees, especially when the worker is away from the office, Bock says. This device, which looks like a mini typewriter with a small screen, can receive e-mail and voice-to-text messages. It also can send e-mail and text-to-voice messages as well as faxes. "These new services are increasingly popular with the deaf and hard of hearing, allowing them to have a more natural conversation with their hearing counterparts than that of the traditional telephone relay services," Bock says.
Assisted listening devices such as personal and phone amplifiers are also helpful to the hearing impaired.
Employees with speech impairments may benefit from screen review utilities, which translate on-screen information into synthesized speech paired with a visual representation of a word by, for example, highlighting a word as it is spoken. Word prediction programs, which help reduce keystrokes for the mobility impaired, can also benefit those with speech difficulties.
Vision Impairments
Employees who have vision impairments may find help right on their computer screens, at little to no additional cost to employers, says LaDeana Huyler, a product manager with the Microsoft Corp. Accessible Technology Group and co-author of Accessible Technology in Today's Business (Microsoft Press, 2002).
For example, operating systems and software programs allow users to make adjustments in font size and display colors that may enable workers with limited vision to see the screen better. Others may need screen magnifiers, software that enlarges a portion of a computer screen, increasing legibility.
Other helpful products include:
Screen reader software, which presents graphics and text as speech.
Speech or voice recognition systems, which enable users to speak commands and enter data with their voices rather than a mouse or keyboard.
Speech synthesizers or text-to-speech systems, which "speak" the onscreen data. Talking word processor software uses speech synthesizers to provide auditory feedback of what is typed.
Speech recognition systems and speech synthesizers also benefit individuals with learning disabilities who need assistance with spelling and grammar.
HR's Role
A significant, untapped workforce is looking for job opportunities. Technological innovations are closing the gap between physical limitations and productivity. So how can you bring the two together to benefit your organization?
It's essential for HR and hiring managers to "take disabilities off the table and just look at the best candidate for the job," says Skip Simonds, director of UnumProvident's Corporate Return-to-Work Program Development, which helps employers develop and implement programs that keep disabled employees at work or allow them to return to work.
That said, Simonds suggests that HR ask all candidates disabled or not this question: "What do you need to do your job?" This opens up communication about what type of accommodations the candidate might need without making a presumption about a disability. Of course, the Americans with Disabilities Act (ADA) says it's up to the job applicant to bring up the subject of accommodations.
Employers need to take "a very practical, step-by-step approach in identifying what exactly the employee needs to do his or her job successfully," says Hunter Ramseur, a research scientist at the Georgia Institute of Technology's Center for Assistive Technology and Environmental Access (CATEA) in Atlanta. For example, a person with a spinal cord injury who is in a wheelchair may require several types of accommodations - everything from adjusting the height of a desk to providing a cordless headset or an alternative input device.
Instead of seeing the person as disabled, HR should evaluate each issue that needs to be accommodated, says Ramseur. "If you use that approach, it takes a lot of the prejudice and emotionality out of it. This way, the person is treated fairly."
Ineffective technology can limit productivity for any employee, so HR must select products that are most appropriate for the disabled worker's job functions, Huyler says. This requires a partnership between the employee, the manager, HR, an assistive technology consultant, and sometimes even a medical professional, she says.
She recommends taking these steps:
Define and coordinate the accommodation and assistive technology process with both the employee and manager, as well as an assistive technology consultant.
Request medical documentation from the employee.
Review the assistive technology proposal with the employee.
Submit the assistive technology proposal to the manager.
Provide training and additional information for both the manager and employee as needed.
Debunking Myths
One of the greatest perceived barriers to implementing assistive technology is cost. But perception doesn't mesh with reality. Studies by the federal Job Accommodation Network (JAN) have shown that 15 percent of accommodations cost nothing, 51 percent cost between $1 and $500, 12 percent cost between $501 and $1,000, and 22 percent cost more than $1,000.
Mainstreaming the technology has reduced costs significantly, Ramseur says. For example, voice recognition software could have cost up to $7,000 10 years ago, but now it's down to around $250.
UnumProvident officials estimate that 550 of their 12,000 workers nationwide have some disability. About 10 percent of these employees use assistive technology. The company spends about $50,000 annually on these products, but in turn saves hundreds of thousands of dollars in productivity, officials estimate.
"The primary barrier to the workplace in many, if not most, cases is attitudinal rather than physical or technological," says Higgins. Before joining UnumProvident four years ago, he worked in jobs where he often had difficulty getting people to understand his needs. HR professionals and managers need to be flexible and willing to make accommodations for the disabled, he says. "It's a mind-set issue."
Those who develop a positive attitude about hiring the disabled can make a positive impact on the workplace, Higgins says. "Managers who hone their accommodation skills are better equipped to support the contributors already in their workforce, keep valuable resources in house and help curtail lost time. Managers need to know that costs associated with accommodations represent an investment in their employees, and that a good accommodation plan allows the worker with the disability to contribute at competitive levels."
Hiring and accommodating this segment of the workforce as UnumProvident discovered does not raise a huge financial hurdle, and state and federal funding programs, as well as federal tax credits, are available.
While technology has come a long way and costs have come down, employers must still address social and cultural barriers. It's the misconception that people with disabilities can't be productive members of the workforce that presents the biggest hurdle.
"We are just as capable of contributing to the workforce, and at least as productive as anyone else, and this needs to be understood," IBM's Bock says.