Welcome to Worksupport's New Website!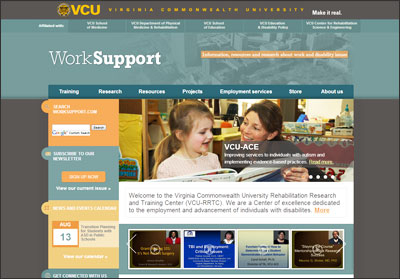 We are excited to announce the launching of our new website! The redesigned WorkSupport.com uses the most current technologies to support the wide range of devices and Web browsers that people use to surf the Web. It is coded with HTML5, the newest Web coding language that makes the website more functional and efficient. It also has a responsive website design, so it will adjust, or respond, to fit different screen sizes. To make the site even more functional on smartphones and tablets, some features have touch/swipe support. Our Facebook account and Google calendar are directly linked to our site, so you will always have our current information. Learn more
Journal Article
Moving employment research into practice: Knowledge and application of evidence-based practices by state vocational rehabilitation agency staff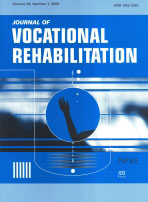 The objective of this study was to identify barriers and facilitators to the use of evidence by professional staff of state Vocational Rehabilitation (VR) agencies. Data were collected via an online survey administered to 355 staff at three state VR departments. Over half of respondents could locate and comprehend research findings. Evidence-based practice (EBP) was not widely encouraged, but there was a positive relationship between the agency having sufficient funds and its support for EBP (r = 0.27, p = 0.001). The top two sources of information respondents used on the job were professional collaboration and the Internet, but not social media. State VR agencies tend not to expect that counselors will use EBP and provide limited incentives for them to do so.
KTER Today: Putting Research to Work
An e-bulletin from the Center on Knowledge Translation for Employment Research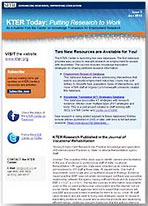 The KTER Center is launching two new databases. The first database provides easy access to relevant research on employment for people with disabilities. The second includes knowledge translation strategies for sharing pertinent research information. The Employment Research Database features articles addressing interventions that lead to successful employment outcomes. Users may sort entries by disability type, population, types of interventions, and more. KTER staff at Virginia Commonwealth University created this database. The Knowledge Translation (KT) Strategies Database associates KT strategies with research evidence. Articles cover multiple types of KT strategies and tools. New research is being added regularly to these databases!
Training | Research | Resources | Projects | Employment services | Store | About us |