Upcoming Webcast
Self Determination: Past, Present, Future

Presenters: Michael Wehmeyer, PhD & Michael Ward, PhD

Date & Time:

June 26, 2:00 pm ET
Over the years, self-determination and choice have become important aspects of vocational rehabilitation, supported employment and other disability support areas. This webcast will give a brief history of self-determination, then focus on self-determination's important role in workplace support and employment issues. In looking towards the future, strategies will be given to determine personal preferences to support career decision making, goal setting, work-place problem solving, self-advocacy and leadership.
You may register for a single webcasts or the series. Individuals with disabilities receive access to all of our webcasts at no charge.
Factsheet
Q & A on Employment of People with Physical Disabilities Personal Assistance Services in the Workplace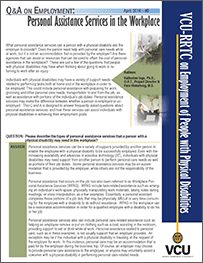 What personal assistance services can a person with a physical disability ask the employer to provide? Does the person need help with personal care needs while at work, but it is not an accommodation that is provided by the employer?
Are there agencies that can assist or resources that can be used to offset the cost of personal assistance in the workplace? These are just a few of the questions that people with physical disabilities may have when thinking about going to work or returning to work after an injury. Individuals with physical disabilities may have a variety of support needs related to performing tasks both at home and in the workplace in order to be employed.
Research Brief
Evaluating the Effectiveness of a Multi-Component Demand-Side Intervention Toolkit for VR Professionals to Improve Employment Outcomes of People with Physical Disabilities: A Randomized Controlled Trial Study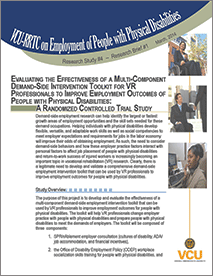 Demand-side employment research can help identify the largest or fastest growth areas of employment opportunities and the skill sets needed for these demand occupations. Helping individuals with physical disabilities develop flexible, versatile, and adaptable work skills as well as social competencies to meet employer expectations and requirements for jobs in the labor economy will improve their odds of obtaining employment. As such, the need to consider demand-side behaviors and how these employer practice factors interact with personal factors to affect job placement of people with physical disabilities and return-to-work success of injured workers is increasingly becoming an important topic in vocational rehabilitation (VR) research.

Read this Research Brief | Find out more about the studies
Accommodations Corner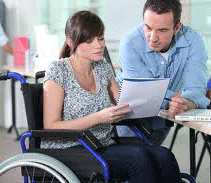 Job accommodations are modifications to a job or the way a job is performed that enables qualified people with disabilities to perform the essential functions of their positions.
Do you have an example of an accommodation that you would like to share on our website? Please submit it to us for consideration.
Webcast Schedule
Jun 26 - Self Determination: Past, Present, Future - Michael Wehmeyer, PhD, Michael Ward, PhD
Jul 10 - Employment Concerns & VR Considerations for People with MS - Phillip Rumrill, PhD
Aug 14 - An Unconfined Life: And the Role of Employment - Nancy Brooks-Lane, Chris Coleman
Sep 11 - Assistive Technology Applications in the Workplace - Tony Gentry
---

Follow us on Pinterest!