Upcoming Webcast
An Unconfined Life and the Role of Employment

By: Nancy Brooks-Lane & Chris Coleman

Date & Time: August 14, 2:00 pm ET
Most of us have some kind of confinement or limitation that's holding us back professionally, personally, physically, financially, or spiritually. Christopher D. Coleman, CEO and Founder of the nonprofit Unconfined Life Institute, believes that everyone can live an unconfined life—in every area of life. As a Life Coach, Motivational Speaker, Self-help Author, and Spiritual Leader, Christopher is dedicated and trained to help individuals and groups rise above obstacles. Christopher offers innovative programs that rise above conventional messages - to coach, motivate, and inspire a wide range of clients
You may register for a single webcasts or the series. Individuals with disabilities receive access to all of our webcasts at no charge.
Research Study
An Exploration of Employment Barriers and Employment Skill Enhancement of Veterans with Traumatic Amputation

The U.S. has deployed more than 2.2 million Americans to Iraq and Afghanistan. Approximately 1,715 major limb amputations have occurred related to Operation Enduring Freedom (OEF) and Operation Iraqi Freedom (OIF) as of Feb. 2013 (Fischer, 2013). Research indicates that less than half of the veterans who experience amputation are returning to work (Doukis, 2013).
However, employment can be instrumental to improving overall wellbeing and community integration. Resilience is a factor that may contribute to employment, community participation, and the wellbeing of veterans.
Armstrong and her colleagues have found that, in comparison to civilians, veterans report overall lower resilience scores (Armstrong, Hawley, Shatte, Ketchum & Czarnota, 2013). Veterans have also indicated a desire to find employment in which they can use their skills and contribute to their communities.
Fact Sheet
The RESNA Catalyst Project (Catalyst)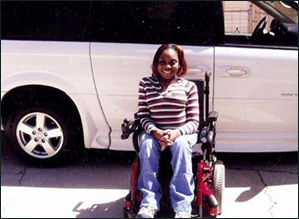 The RESNA Catalyst Project is a federally-funded initiative that provides assistance to the State Grant for Assistive Technology Programs, Alternative Financing Programs, and the Protection and Advocacy for Assistive Technology Programs.These organizations all work to provide resources and assistance to individuals with disabilities and their families.
The mission of the RESNA Catalyst Project is to help each of these unique programs provide the best services possible. The Project provides technical assistance to ensure compliance with federal and state regulations. The goal of the RESNA Catalyst Project is to improve the effectiveness of the Assistive Technology Act Entities. Read the Fact Sheet
Missed a Webcast? View the Archive!
Community Re-integration of Veterans: Resilience, Well being and Employment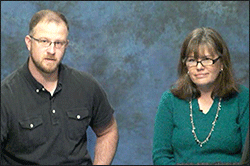 This webcast introduced pilot data concerning the self-reported resilience, employment experience and perceived quality of life of OEF/OIF Veterans. Potential implications for wellbeing, community re-integration and employment were discussed.
Amy Armstrong is chair and associate professor in the Department of Rehabilitation Counseling at Virginia Commonwealth University. She has been involved in advocacy, education and employment issues related to individuals with disabilities for over 25 years.
Tom Waterworth is a 2010 graduate of VCU's Homeland Security & Emergency Preparedness program and a former communications director of VCU's Student Veterans' Association. During Tom's time as a student at VCU he worked closely with the administration to address the needs of returning service members, spouses, and their dependents. Register Online
Accommodations Corner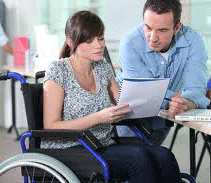 Job accommodations are modifications to a job or the way a job is performed that enables qualified people with disabilities to perform the essential functions of their positions.
Do you have an example of an accommodation that you would like to share on our website? Please submit it to us for consideration.
Webcast Schedule
Jul 10 - Employment Concerns & VR Considerations for People with MS - Phillip Rumrill, PhD
Aug 14 - An Unconfined Life: And the Role of Employment - Nancy Brooks-Lane, Chris Coleman
Sep 11 - Assistive Technology Applications in the Workplace - Tony Gentry
---

Follow us on Pinterest!